By far, the easiest way to work a ski season in Canada as a foreign national is to apply for the International Experience Canada (IEC) program. The International Experience Canada (IEC) program enables young citizens aged 18-30 (sometimes 18-35) of more than 30 countries to travel and work in Canada.

There are three IEC programs, of which the working holiday program is the most popular and most appropriate for working a ski season in Canada. This article will explain how to apply for a working holiday visa for Canada.
The 2022 IEC season closed in October 2022. The 2023 season will likely open in December or January (2023). If you're looking to work the 2023/4 ski season, apply when the program opens. You'll have up to a year to travel to Canada and activate the work permit
The IEC working holiday program:
Provides an open work permit that allows the holder to work anywhere in Canada
Has no limitations concerning how long you can work for an employer while in Canada
Does not require participants to have a job lined up in Canada in advance
Varies in length depending on each country's reciprocal agreement with Canada
For the UK, Australia and Ireland it is 24 months maximum (23 months for NZ citizens)
Offers 'once in a lifetime' participation unless you have dual citizenship with another IEC country (e.g. you are British and Irish, or German and Australian)
This post includes some affiliate links. If you make a qualifying purchase through one of these links, I may receive a small commission at no extra cost to you.
What you need to know about applying for a working holiday visa for Canada
With all of that in mind, there are a couple of things you should know about the actual working holiday visa application before I discuss how it all works:
The application cycle usually runs November-September every year but specific opening/closing dates change from year to year (and have varied a lot during the pandemic). When closed, you cannot submit an application
Each participating country has a quota of places available for their citizens. Australia is the only country with an unlimited quota
Candidate selection happens throughout the application cycle until the individual quotas run out
Selection is completely random and is not based on education, skills or previous work experience
Some countries have a higher demand than allowed quota, so not all applicants get a place on the program. This is true for the UK, Germany, South Korea and France among others
Applications for the IEC program are entirely online
Technically, the IEC working holiday program doesn't offer a visa per se, but actually a work permit and eTA (electronic travel authorisation). But I will refer to it as a visa in this article
If you've already done a working holiday in Australia, the UK, New Zealand or elsewhere, you'll quickly notice that the IEC application process is a bit different. The application process has several parts and can take a long time to finalise
Overview of the IEC working holiday visa process
Here's a quick step-by-step guide to the working holiday visa for Canada application process:
You must first complete the 'Come to Canada' questionnaire to check eligibility for the IEC working holiday visa program
If eligible, you must then create a profile with basic personal details. This put in a pool with other candidates from your country
CIC regularly invites random candidates from each pool to participate in the program throughout the application cycle until the quota runs out. An invite may take a day, a month or longer to arrive.
Once you receive an invite, you have to decide whether to accept or decline within 10 days.
After you accept the invite, you then need to complete a work permit application within 20 days. This involves submitting completed forms and documents (such as a police certificate from anywhere you have spent 6 consecutive months or more since the age of 18) and paying the fees
Within 24 hours after submitting the work permit application, you'll receive a request to give biometrics (fingerprints, photo) within 30 days
A decision will be made on your application up to eight weeks after giving biometrics. If approved, you'll receive a Point of Entry (POE) approval letter
More of a visual person? Check out this working holiday visa Canada diagram: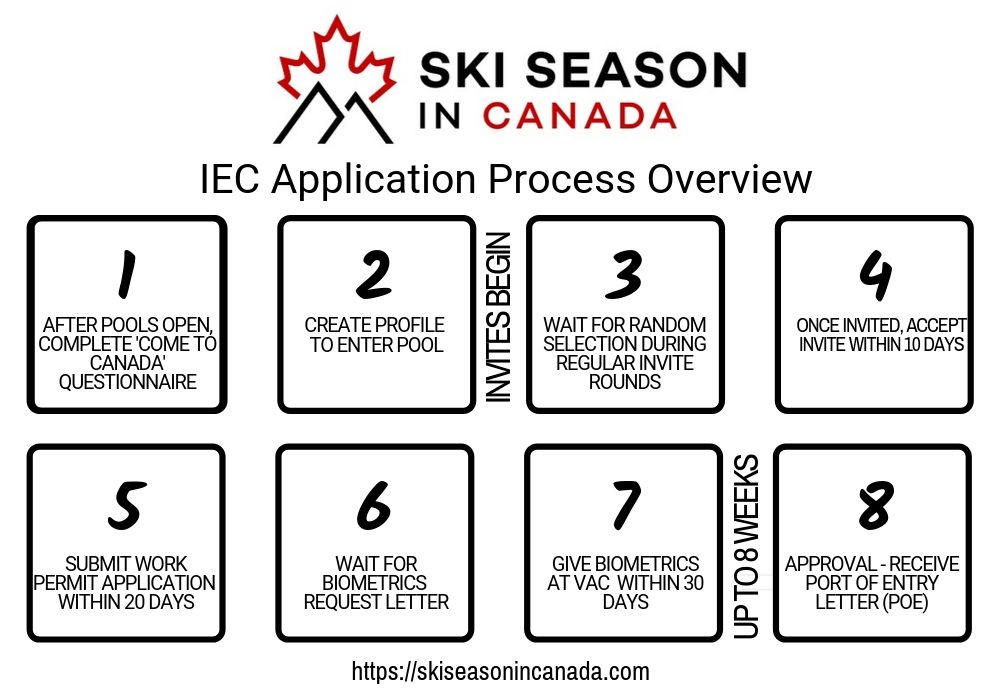 The importance of planning ahead for Canada's working holiday visa program
The most important thing to know about the IEC application if you're hoping to do a ski season in Canada is that you will need to plan ahead.

The time of year that the IEC application cycle runs (usually November to September) means that ski season applicants may need to apply up to a year in advance, potentially longer.

Luckily, once you have a POE (final approval), it can be activated in Canada up to one year later.

If you want to work the 2023/4 ski season, you should apply for the IEC in early 2023. If you're thinking of going to Canada for the 2024/5 season, plan to apply sometime in early 2024.
EXAMPLE SCENARIO

You enter a profile in the pools in January 2023. An invite arrives on 4th February 2023. You submit all documents within the time limit and finally get your POE on March 28th 2023. You are then able to activate the POE and start your working holiday in Canada anytime until March 27th 2024.
Working holiday visa Canada application tips and advice
When planning your IEC application, consider:
The earlier you join the pools, the better chance you will have to receive an invite. More candidates join as time continues and joining early means being eligible for more invite rounds
Be sure to keep an eye on your country's eligibility page for pool opening/closing announcements (use the drop down menu at the bottom of the page)
Each country's 'Rounds of invitations' page (linked from here) shows how many places are left as well as number of other applicants in the pool
Processing time listed on the immigration website refers to the length of wait after an IEC applicant has been invited and submitted their work permit application. The waiting time for an invite is completely random
For some IEC programs (e.g Italy) you have to need to include a permanent mailing address from your citizenship country in your application
If you're planning to work in close contact with children or in the health services in Canada, you must complete a medical as part of your application. Ski instructors do not need to do this
Common IEC Working Holiday Visa Application Questions
My passport runs out soon, can I still apply?

For the IEC, your passport must only be valid at the time of application. You can get a new passport before going to Canada.

Can I apply from Canada or another country?

Yes, you can apply for the IEC where ever you are in the world.

If you apply from Canada, however, you should keep in mind that you will need to leave Canada to give your biometrics as there is nowhere in Canada for IEC applicants to do this yet.

Do I need to submit a Canadian police certificate if I've lived in Canada before?

No, not unless specifically asked.

Do I need proof of funds or insurance on application?

No, only on arrival to Canada

If I have dual citizenship, can I apply for the IEC again on my other citizenship?

Yes.

How long will be IEC work permit (working holiday visa) be valid for?

It depends on the country of your citizenship. You can check on the immigration website here. Australian, British and Irish citizens are eligible for a 24 month work permit. New Zealand citizens are allowed 23 months. To get the full amount, you must also have travel insurance for the full period.
What are the fees for the working holiday visa for Canada?
Participation fee – $156
Open Work Permit Holder fee – $100
Biometrics fee – $85
Police certificate(s) – country dependent
Medical, if applicable – country dependent, $300-500 average
Travel insurance policy for length of intended stay in Canada
All prices in Canadian dollars and based on 2022 application fees.
Complete IEC application guide
For everything you need to know about applying for the Canada working holiday visa, check out this comprehensive IEC application guide. It goes through the process with detailed step by step instructions.
Arriving to Canada with your working holiday visa
Once your application has been approved and you have a valid POE, you can now move to Canada anytime within the next year. It is not a good idea, however, to wait until the last few days before the POE expiry in case of flight or other travel delays.
When finally arriving in Canada you will need:
Passport
Printed POE letter
Proof of $2500 in funds – bank statement or online banking print-out, dated within last 7 days
Proof of a return flight or proof of additional funds that would be used for a return flight (credit card is OK for this)
Proof of insurance for the full length of your intended working holiday in Canada
It is a good idea to also bring printed copies of the following documents, to avoid common expiry date mistakes on the work permit:
Before leaving immigration, be sure to triple check the details on your work permit. In particular, make sure expiry date is correct, your name is spelled correctly and that the work location reads 'open.'
Travel insurance for your Canada working holiday visa
As mentioned above, having health or travel insurance for the full length of your intended working holiday in Canada is mandatory.

If you don't have it and your documents are double checked on arrival in Canada, you may have your working holiday visa cancelled or shortened to the length of the travel insurance policy you do have.

So if you have a travel insurance policy covering six months, you would only receive a work permit for six months. This could not be extended later. You also would not be able to apply again.

Before you ask, this can and does repeatedly happen. Don't take the risk. Maybe you had a friend who arrived with six months insurance and got away with it but you may not be so lucky. There are other important reasons to have travel insurance for your ski season too.
Canada ski season travel insurance
I've spent a lot of time researching and reading travel insurance policies for ski seasons in Canada.

The below companies all offer long stay policies for working holidays in Canada with additional coverage available for winter sports:
Brits – True Traveller

24 month IEC policy

Coverage also available for all EU Nationalities
Most IEC nationalities – World Nomads

Policies of up to 12 months, so 2 x 12 month policies would be needed for 24 month IEC working holidays
Another option for most IEC nationalities is BestQuote, travel insurance specialists partnered with some of the largest and most reputable insurance providers in Canada. The 2 year IEC policies cover basic (non-competitive) ski cover as standard. Some options also include coverage for Covid19 related claims.
Planning a ski season in Canada? Here are some helpful resources

Secure your working holiday visa – your first step to an amazing ski season in Canada is to apply for the IEC program

Research Canadian ski resorts and apply for work – Get the low down on Canada's huge range of ski resorts and learn tips and tricks for finding a job

Book arrival accommodation – It's a smart idea to spend at least a few days in whichever Canadian city you land in. Booking.com usually offers the best rates for hostels and hotels

Don't forget travel insurance – A mandatory part of the IEC working holiday program in Canada, travel insurance also protects you against serious medical care costs in case of illness or injury. I have personally used True Traveller

Get prepared for arrival in Canada – This moving guide includes everything you need to know about immigration, getting a local Canadian number, opening a bank account and more
Related posts